Registrations open for 15th & 16th June 2019!


15th June 2019, Cheddar Trail Races, from 13:30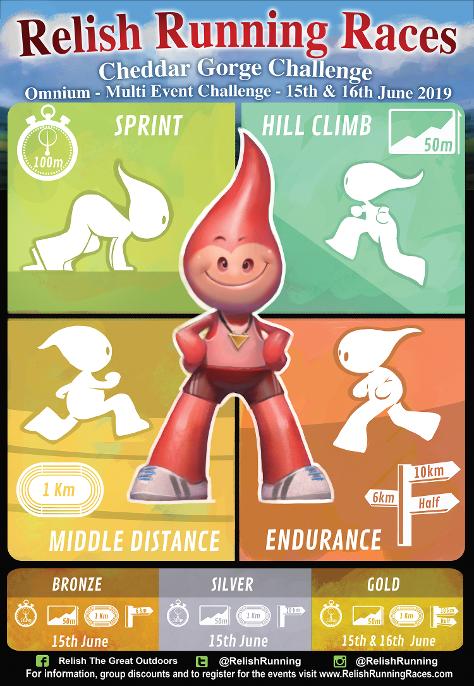 6km (stand alone event)
All runners £15, £2 extra on the day
10km (stand alone event)
All runners £20, £2 extra on the day
Bronze Omnium (min age 12)
All runners £30, £5 extra on the day
Silver Omnium (min age 14)
All runners £35, £5 extra on the day
Gold Omnium (min age 17)
All runners £60, £5 extra on day
Note: Gold omnium is on the Saturday and Sunday. The Omnium is not a UK Athletics affiliated event which enables us to have slightly younger minimum age requirements on the Saturday compared to Sunday.
We are very excited to be bringing not only a brand new event, but also a brand new event format to Cheddar Gorge this year. You can read all about our Omnium events here.
The Cheddar Gorge Omnium sees runners take on 4 different events over the course of an afternoon with a final ranking based on the finish positions across each event. It is a best all rounder style competition, in a fun, friendly and inclusive atmosphere. Runners will rotate around the first 3 events (Sprint, Hill Climb, Middle Distance) according to which Group you select on the registration form. All runners will then take part in the Endurance event together.
Everyone will compete in the Sprint, Hill Climb and Middle Distance. There is then a choice of which Endurance distance event, which determines whether you complete a Bronze (6km), Silver (10km) or Gold (10km + Half Marathon) Omnium.
Due to popular demand we have now added a 6km and 10km stand alone event to the Saturday afternoon/evening schedule. These runners will join in with the final event of the day alongside the Ominum runners, we expect this to be a 17:30 start. There will be a beer tent, cider tent, live music and a host of food on offer.
Finish position runners of the stand alone event runners will NOT show in the Omnium results, so you are the 10th runner across the line in the 10km, but the second Omnium runner across the line then you still still be awarded two points.
16th June 2019, Cheddar Trail Races, from 10:00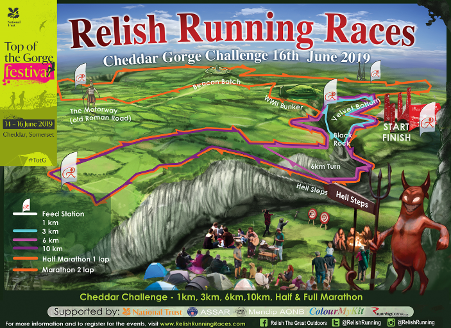 On the Sunday we have a race for all the family; 1km, 3km, 6km, 10km, Half Marathon and Marathon distance trail events across Cheddar Gorge and the Mendip Hills

- 1km, out and back course across the festival site
- 3km looped course along Velvet Bottom
- 6km looped course towards Cheddar Gorge and along Velvet Bottom
- 10km course heads all the way along the Cheddar Gorge cliff with great views
- Half Marathon is a single lap course with amazing views along Cheddar Gorge, climbs up to the highest point on the Mendip Hills with bountiful feast stations along the way
- The Marathon route is 2 laps of the Half Marathon course as above


1km (no min age)
Affiliated £5 Unaffiliated £5 £5 on the day

3km (min age 10)
Affiliated £6 Unaffiliated £8 £2 extra on day

6km (min age 14)
Affiliated £13 Unaffiliated £15 £2 extra on day

10km (min age 16)
Affiliated £18 Unaffiliated £20 £2 extra on day

Half Marathon (min age 17)
Affiliated £29 Unaffiliated £31 £2 extra on day

Marathon (min age 18)
Affiliated £40 Unaffiliated £42 £2 extra on day
For 10 or more runners only
Top of the Gorge Festival, 14th - 16th June 2019
This new outdoor festival is a celebration of everything outdoors with trail races, mountain bike sportives, camping, live music, guest speakers, food foraging, axe throwing and many others activities taking place across the weekend of 14th - 16th June.
Runners will receive an exclusive 30% discount code for camping in their confirmation emails. This can be used against Early Bird and Full price tickets. It can not be used on the day.
This year there is going to be a suggested donation of £5 per adult in form of raffle tickets for race Spectator Tickets at the event. The first prize is £10,000!! There is no donation required for children, though the more tickets you get, the greater the chances are of winning :-) The Spectator ticket includes admission to the festival site, the race village (start/finish areas) and access to all the caterers and main music stage. It does not include any of the free activities which are included in the festival Day Ticket price, such as the free talks by inspirational speakers, free climbing wall, free camp fire talks etc. If you wish to partake in any of these activities then you can Pay As You Go at each activity, or return to the entrance and upgrade your Spectator Ticket for a Day Ticket and then all this is included in your wristband.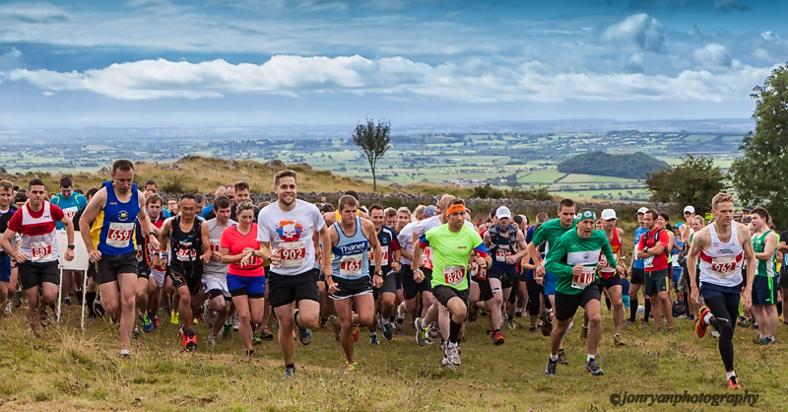 About
Whichever distance you are taking part in, you will see of the most beautiful and remarkable landscapes of any run in the country. The 10km, Half Marathon and Marathon all include breath taking running along the gorge cliff top path (many metres from the actual edge so don't worry) which has the most incredible views across the Somerset levels and over the Bristol Channel.
Since 2017 we have moved the start to inland, rather than the gorge edge, which means you are already on the high ground at the top of the gorge height, and it is the ground level that falls away to give you gorge it's height. Of course there is one really good hill along the way, but it is nowhere as tough as it's old reputation might suggest.
Terrain
There is a great mix of grass fields, rocky terrain and woodland trails all in the Mendip Hills Area of Outstanding Natural Beauty. Off Road shoes are recommended, particularly if wet underfoot.

Facilities

We will be retaining our (relatively) new venue which offers on site car parking, just a short and flat walk to the start! There will be toilets, secure bag storage, music, a range of caterers on site serving hot food and drinks and a whole host of other activities.

We will be based at Warren Farm, Blagdon, Charterhouse, BS40 7XR. The race site is overlooking Black Rock, a really beautiful point, with plenty of trails to get out and explore the countryside.