8th & 10th September 2017 - Online registration are now closed. Places are guaranteed on the day, please see Info page for details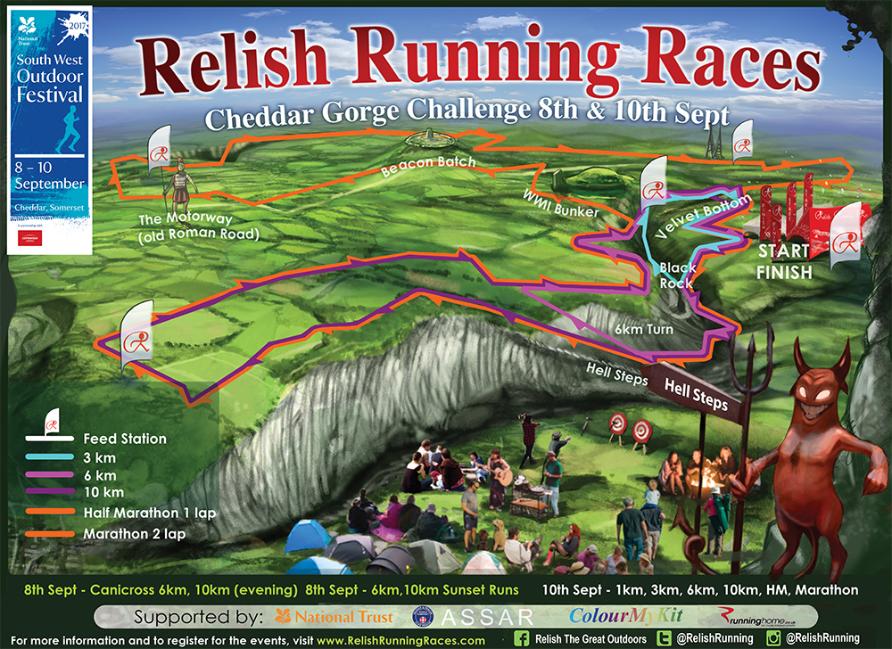 8th September, from 19:00


On the Friday evening we are offering some excitng new events to kick start the festival. There will be a post race bar, food and music!
- We have a Canicross (runners with dogs) race starting at 19:00 with an individual time trail start, 1 runner at a time at 10 second interval. We have a 6km and 10km race option
- From 19:00 we have our Sunset 6km and 10km runs. The sun sets at 19:42 so runners will run along the gorge edge towards the sunset (the more technical rocky bit) and then return to base in the dusk and dark (flatter, more even terrain). If the weather plays ball this will be a truly amazing run, and even if it doesn't, running back into the festival in the dark will be a real treat!


10th September, from 10:00


On the Sunday we have a race for all the family; 1km, 3km, 6km, 10km, Half Marathon and Marathon distance trail events across Cheddar Gorge and the Mendip Hills
- 1km, out and back course across the festival site
- 3km looped course along Velvet Bottom
- 6km looped course towards Cheddar Gorge and along Velvet Bottom
- 10km course heads all the way along the Cheddar Gorge cliff with great views
- Half Marathon is a single lap course with amazing views along Cheddar Gorge, climbs up to the highest point on the Mendip Hills with bountiful feast stations along the way
- The Marathon route is 2 laps of the Half Marathon course as above

1km (no min age)
Affiliated £5 Unaffiliated £5 £5 on the day

3km (min age 10)
Affiliated £8 Unaffiliated £10 £2 extra on day

6km (min age 14)
Affiliated £12 Unaffiliated £14 £2 extra on day

10km (min age 16)
Affiliated £16 Unaffiliated £18 £2 extra on day

Half Marathon (min age 17)
Affiliated £27 Unaffiliated £29 £2 extra on day

Marathon (min age 18)
Affiliated £38 Unaffiliated £40 £2 extra on day

* The Canicross and Sunset races are not UK Athletics affiliated events, so all runners are charged the unaffiliated prices.

South West Outdoor Festival
NEW for 2017, the Cheddar Gorge Challenge in joining the National Trust's South West Outdoor Festival (
SWOF
). This is a celebration of everything outdoors with trail races, sportives, camping, live music, guest speakers, food foraging, axe throwing (not in the direction of the runners...the race is tough enough) and many others activities taking place across the long weekend of 8th - 10th September 2017.
As this is a festival with a whole range of free to attend music and talks, there is a small admission fee (a Day Ticket) for spectators to enter the festival area, within which the race village, start and finish is located. Runners of any distance do not need to pay any additional admission fee. Day Ticket festival tickets can be purchased on the day, or in
advance via the Festival website
.
We have a NEW start/finish location, with accessible parking just a short flat walk to registration and the start line. The routes will remain largely unchanged as we are able to jump onto the existing routes from our new base, though as we are efffictvely starting mid way round the old courses, you will see the route in a different and arguably less hilly light.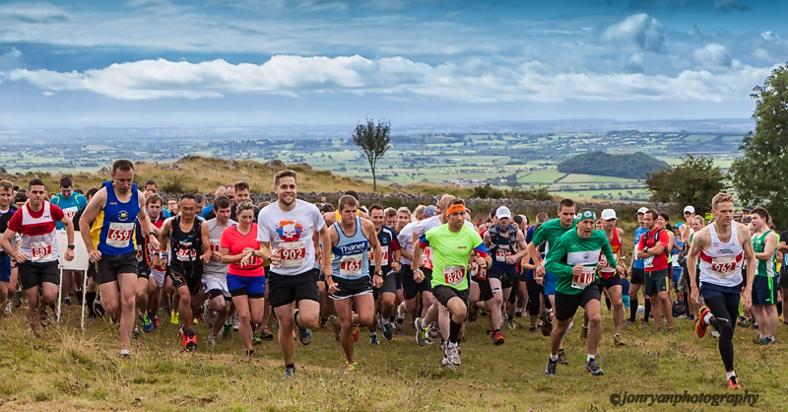 About
Whatever distance you take part in, you are racing one of the toughest events of it's kind in the south west. You will do more climbing just getting to the start than you will in most other events (we start at the top of the gorge and let you finish at the bottom). Each event takes in what has been affectionately dubbed the 'Hell Steps'; a cheeky little flight of steps with a surprise mid way up.
Terrain
Cheddar Gorge is steep in places and very steep everywhere else. The Cheddar Gorge Challenge series takes in breath taking views and lung aching ascents, the terrain is varied and exciting, 500m long climbs and descents at 10% or more should be expected. Off Road shoes are HIGHLY recommended!

Facilities

There is a NEW VENUE for 2017, which offers car parking with on site parking! There will be toilets, secure bag storage, music, a range of caterers on site serving hot food and drinks and a whole host of other activities.

We will be based at Warren Farm, Blagdon, Charterhouse, BS40 7XR. The race site is overlooking Black Rock, a really beautiful point, with plenty of trails to get out and explore the countryside.