Pipley Woods Mud Bath 10th Feb 2019



Group Entry
...by email, min 10 runners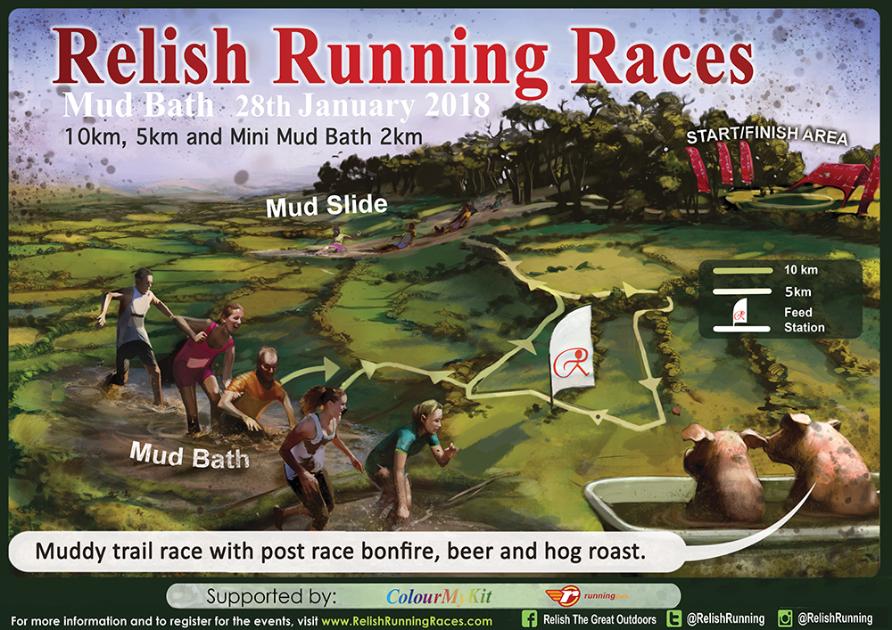 Pipley Wood - 10th Feb 2019 - Muddy trail race with hog roast, beer and bonfire!

Back for it's third year, the Pipley Wood Mud Bath treat runs to mud, more mud, natural obstacles, water crossings and even more MUD! Expect to come back filthy muddy from this really fun event. Warm yourself after the race with our post event bonfire and treat yourself to a beer of bath ale's finest and a delicious hog roast for just £5! There are veggie, gluten free and soft drink options, please indicate on your entry form if you would like one of these options. Spectators can also order a hog roast in advance at £8 per head with beer, £6 per head with soft drink, please add to your entry form when you register.

The races use entirely natural paths and natural obstacles. The route uses public footpaths and trails in the privately owned ancient woodland of Pipley Wood. The routes are naturally water logged at this time of year and the lesser used paths in Pipley Wood muddy up a treat! We will take you on a tour of the woodland along gulleys and up ravines, over fallen trees and under others.

This is still very much a running race, with a few natural obstacles thrown in at Pipley wood. We see it as a very muddy running race, negotiating the land as it lies - it is not a full on obstacle race - we promise not to shoot you, electrocute you or cover you in honey and throw you in a nest of wasps ;-)

Event Format

In order to keep everyone running we will be starting the event off in waves of 100 runners at a time, setting off at 10min intervals. This enables everyone to naturally spread out and enjoy the course. All waves are open to runners of all abilities so the choice is yours - but remember, the later you start, the muddier you will get!


Registrations

10km - £25 min age 14. £5 extra on the day
5km - £18 min age 12. £5 extra on the day
5km Adult accompanied - £18 min age 10. £5 extra on the day
2km Mini Mud Bath - £10 min age 3. Runners age 6 and under must be accompanied by an adult. £2 extra on the day.

There is no charge for Accompanying Adults. Adults must be with their children at all times, max ratio of 2 children to 1 adult. There is no charge for accompanying adults, registration forms register both the little runner and accompanying adult. Accompanying Adults are not given race numbers, now are they awarded finishers medals.

The post race hog roast and beer is just £5 extra per person when you register, or £8 extra if you get it as an add on at the race.


Facilities

We will be pitching up camp at Ranger Wood just off the Cotswold Way. We will have toilets, changing tents and bag storage on site. Definitely consider bringing a change of clothes for after the race.