Registrations Open - 22nd September 2019!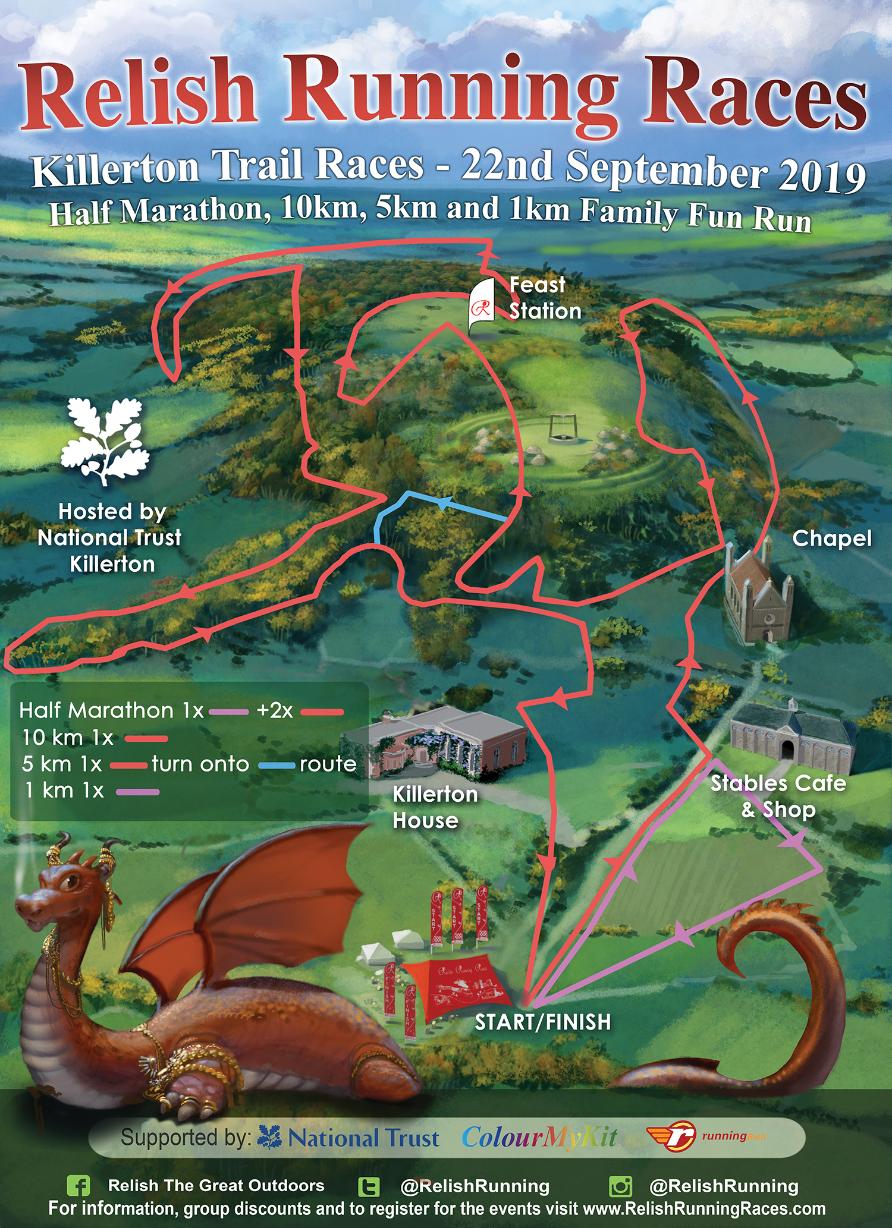 About

Killerton, owned by the National Trust, is a working farming estate just six miles from Exeter in Devon.

Killerton's countryside team care for a huge network of 70 miles of footpaths, trails, permissive routes and public rights of way offering some of the southwest's most beautiful place to run. Get closer to nature, explore the rural landscape and enjoy far-reaching views across to Dartmoor, Haldon and the Exe Valley.
Venue
The ten square mile Killerton estate was donated to the National Trust in 1944 by the Aclands, one of Devon's oldest families. The 18th Century mansion overlooks open parkland, farmland and beautiful landscaped gardens. The historic grounds at Killerton are already an established location for running events and host a weekly Killerton parkrun. We are very excited to be partnering with Killerton and National Trust to introduce a new 10km and half marathon multi-terrain course to the Relish Running Race series, a challenging route that takes in some of the most scenic parts of Killerton's countryside which have not been used by any other previous events.
Events - 22nd September 2019 10:00am
Half Marathon
(min age 17)
- Unaffiliated £31 Affiliated £29 On the day £2 extra
10km
Incl Canicross (min age 16)
- Unaffiliated £20* Affiliated £18 On the Day £2 extra
5km Incl Canicross (min age 12)
- Unaffiliated £15* Affiliated £13 On the Day £2 extra
1km (no min age)
- Unaffiliated £5 Affiliated £5 On the Day £5
* Canicross races are all the same price, the unaffiliated rate, as the Canicross races are not affiliated with UK Athletics.
Facilities
There is an onsite free car park, toilets, baby changing and feeding facilities. There is also wheelchair and push chair access to the main house.

The Stables café and Killerton Kitchen restaurant serves home-cooked snacks and meals using ingredients sourced from farms on the estate and local producers. Killerton also produces it's own award-winning cider, apple juice, honey, apple chutney, flour and charcoal which is available to buy from the NT shop.
(groups of 10 or more only)
Prizes
The winners' prizes for the 10km will be provided by our fantastic sponsors Running Home and awarded as follows;
10km & Half Marathon

Top 3 men and top 3 ladies
First U20 male and female
First 40-49 male and female
First 50-59 male and female
First 60+ male and female
All runners will receive a large custom medal and a buffet of fresh fruit, cakes and other tasty treats not only at the finish line but also around the course