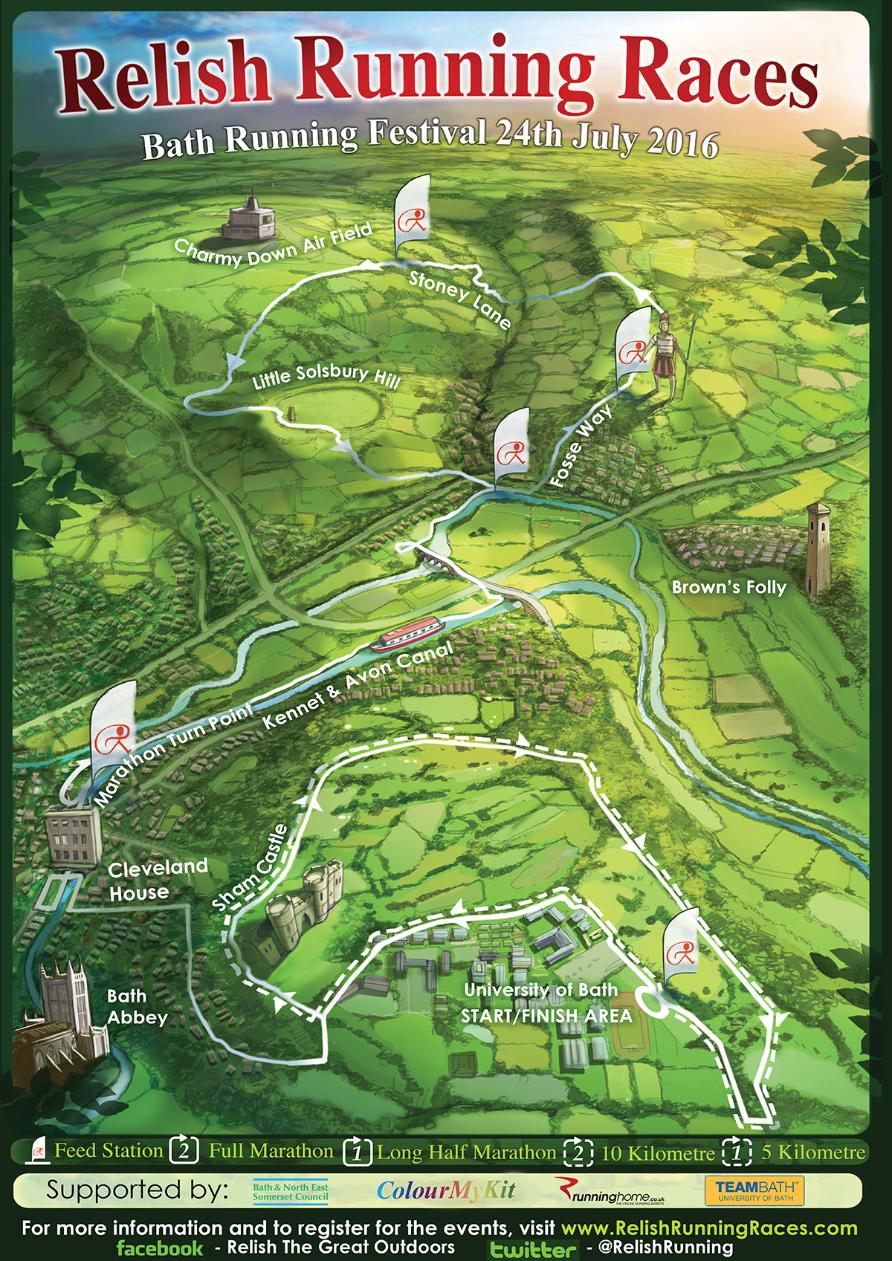 Events - 24th July 2016 10:00am
| | | |
| --- | --- | --- |
| Challenge | Min Age 18 | |
| Affiliated £80 | Unaffiliated £85 | £5 extra on the day |
| | | |
| --- | --- | --- |
| Mini Challenge | Min Age 17 | |
| Affiliated £55 | Unaffiliated £60 | £5 extra on the day |
| | | |
| --- | --- | --- |
| Marathon | Min age 18 | |
| Affiliated £38 | Unaffiliated £40 | £2 extra on the day |
| | | |
| --- | --- | --- |
| Half Marathon | Min age 17 | |
| Affiliated £27 | Unaffiliated £29 | £2 extra on the day |
| | | |
| --- | --- | --- |
| 10km | Min age 15 | |
| Affiliated £16 | Unaffiliated £18 | £2 extra on the day |
| | | |
| --- | --- | --- |
| 5km | Min age 12 | |
| Affiliated £12 | Unaffiliated £14 | £2 extra on the day |
| | | |
| --- | --- | --- |
| 500m | No min age | |
| Affiliated £3 | Unaffiliated £3 | £2 extra on the day |

About - Bath Running Festival
The Bath Running Festival is a celebration of off-road running around the beautiful hills and valleys of Bath. All the runs take in breath taking views of Bath from
Sham Castle
and the open meadows above Bathampton. The longer the race, the more hills, and fantastic views you will get to experience. The half marathon and marathon routes include sections along the Kennet & Avon Canal and through the historic
Sydney Gardens
.
The hills begin for the half marathon and marathon runners on the original Roman Fosse Way (straight up for 1 mile at 8% or so) and this theme continues as the route traverses the valleys in St Catherines and up to the famous Solsbury Hill (of Peter Gabriel fame). This views from the site of this Iron Age Fort are very special, with views down to Bath, down all the surrounding valleys and over to all the other hills on the route.
All the races are designed to be fun, friendly and hilly! We put on glorious buffets of fresh fruit and tasty treats at the feed stations around the course and at the finish line, we have a great team of marshals to point you in the right direction and to cheer you round. All finishers will receive a custom made medal and other goodies to reward them for their efforts!
Facilities
The race is based at the University of Bath and there is free parking on Sundays. We are based in the University's World Class Facility, the
Sports Training Village
(STV). Registration will take place on the viewing area over looking the athletics track and the race start and finish area. We have use of the on site toilets, changing rooms and showers.
After the race, we recommend you return to the STV for a restorative meal at the Sports Cafe, specifically designed to replenish and refuel the country's top athletes.
Prizes
All finishers will receive a custom designed medal (10km, half marathon and marathon) and a goody bag. Around the course, and at the finish line, will be our usual selection of fresh fruit, jelly beans and other treats.
Winners prizes will be provided by
Running Home
. There will be winners prizes for the top 3 runners, as well as prizes for the first in the age group in; U20, 20-39, 40-49, 50-59, 60+.