Hello and Welcome to Relish Running Races
Please check the FAQs and Event Info/Race Day pages on the specific event webpages in the first instance. If you still have a question please contact us using the form :-)
FAQs - Registration
I have not received a confirmation email, but I have a PayPal receipt, I am registered? >> Yes, you are! Most probably, your confirmation email has been filed in a spam or promotions folder. Please dig it out, save our email address, and all future emails will go to your main inbox.
I tried to register but I have no payment receipt or confirmation email, am I in the race? >> Probably not, if you have neither of these things, then your registration must have been interrupted and not processed, please can you try again.
Can I switch a place with a friend? >> Sorry, our places are non transferable and non refundable as set out in our Ts and Cs which are shown when you sign up.
Can I have a refund please? >> Sorry, our places are non transferable and non refundable as set out in our Ts and Cs which are shown when you sign up.
Can I pay over the phone? >> I'm afraid we don't have the ability to take payment over the phone. Please register online or via a cheque and postal registration form.
FAQs - Race Prep
Why have I not received a race pack or number yet? >> All our info is published online on the pages named Race Day or Event Info. All numbers are to be collected on the day, unless specifically mentioned otherwise.
FAQs - Race Day
Can I run with my dog? >> Yes, but only at our specific Canircoss events which are currently one edition of the Skyline 10km and one edition of the Cheddar Gorge Challenge. Please check these individual event pages for details
Can I run with a pram? >> Yes. The best events are the Two Tunnels 5km, Return Ticket 10km, Return Ticket Half Marathons and any of the Lacock Road races as all the events are flat, have good terrain and no pesky gates or stiles.
Can I listen to music? >> Only through bone conducting headphones as per UK Athletics rules. On fully closed roads event (Lacock) you can listen through more regular earphones if you wish, but there will be vehicles (staff, first aid) moving out about the course so we always recommend you have one ear free to hear for this, your fellow runners and marshal instructions....we have had to give chase of people who have missed a turn but can't hear the marshals because of their music!

Are there toilets? >> Yes! Please use them. We are fortunate enough to hold events in very special places, not very special big outdoor toilets ;-)
Is there a bag drop? >> Yes, there is a bag/key drop at Registration
Are there changing facilities? >> Generally not, though we have some new tents so will be offering this more and more. We will them at our Mud Bath events and some of our longer distance events. Best to check the Race Info for each individual event.
Do I get a medal? >> Yes! All runners, from 200m up to 100km, get a very cool custom made medal unique to that event and that year. The ribbons denote which particular distance you took part in.
Are the races timed? >> Yes. We have a cool timing system which posts results LIVE to our website. We catch 98-99% of runners as they cross the line, and catch up with any missed (we couldn't see your race number as you crossed the line) shortly after the last finisher.
FAQs - After the Race
Where is my result? >> PROVISIONAL results are posted live from the event. If we can't see your number as you cross the line we may miss you first time round, but will tidy up the results the evening of the race. If your result has still not appeared please email us and will get them updated.
What is happening with my customised medal? >> Your name and time will be sent to our engraver who will engrave a plate with your details which will fit in the back of your medal. These will arrive 2-3 weeks after the event.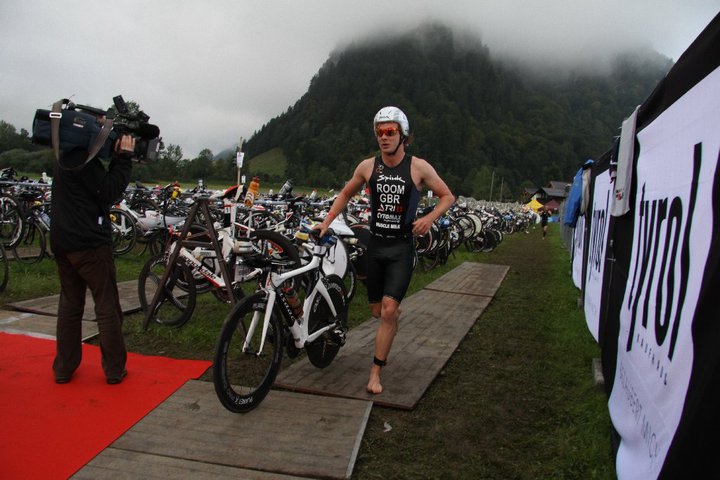 Hello! My name is Tom and I am the organiser of Relish Running Races.
I was a GB Professional triathlete for 8 years, coming over the half ironman distance (1.9km swim, 90km bike, 21.1km run). I finished in the top 50 professionals in the World at the 2008 & 2009 World Championships. I have been fortunate enough to race all around the world and have experienced some truly fabulous events, and that is what I am looking to recreate with Relish Running.
The best events were more than just races, they were a great day out for the whole family and that is what I want to offer with Relish Running Races too. You can read more about the core values on the Philosophy page.
As well as training and organising races I offer a complete range of coaching services for people looking to complete their first 10km, through to triathletes looking to qualify for the Ironman World Championships.
Recently I have been turning my hand to a little bit of web design and produce Event Registration Systems for sporting events and other organisations.
You can find out more about me
here
.
(Photo courtesy of Christoph Raithel)